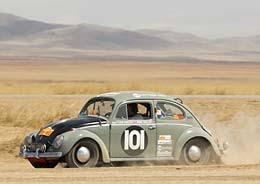 This well-known Beetle, prepared to mirror the car from the 1964 Spa-Liege rally, was entered in the Peking-Paris rally in 2007 by artist Matthew Keeler.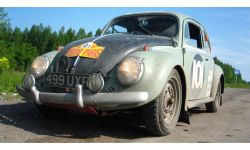 100 years before, the famous Peking to Paris Rally began with the briefest of appeals in a newspaper: "Will anyone agree to go, this summer, from Peking to Paris by motor car?" Le Matin asked in 1907. The challenge was eventually taken up by five teams including an Italian nobleman, a dastardly con man and a journalist from The Daily Telegraph. Crossing 12,000 miles of the most inhospitable terrain, without maps, all but one team made it to the finishing line. A century after that historic race pushed cars and their owners to the limit, the rally was re-run in 2007. Among 134 vintage cars that departed from the Great Wall of China were some of the same models that competed in the first race in 1907, with top speeds of just 35mph.
Matthew and John Keeler of Reading, Berkshire, UK entered a 1959 Volkswagen Beetle which was prepared with a twin air cleaner in light of the Gobi desert conditions that they will be facing and uprated rear suspension, with the knowledge that was gained from Classic Car Trials set-up on Beetles.
The Volkswagen Type 1, widely known as the Volkswagen Beetle or Volkswagen Bug, is an economy car produced by the German auto maker Volkswagen (VW) from 1938 until 2003. With over 21 million manufactured in an air-cooled, rearengine, rear-wheel drive configuration, the Beetle is the longest-running and most-manufactured automobile of a single design platform anywhere in the world.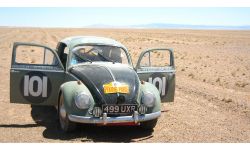 "Grolle" originally came from Sweden. Discovered in a barn in Kent, Grolle went to VW restoration company Henley Beetles for a complete strip down and rebuild. A few modifications were made for the rally ahead. These included: A roll cage, under-body skid plate protection, an engine and gearbox rebuild, Kubelwagen drain plugs in the floor (for river crossings), front beam strengtheners and heavy duty shock absorbers. The car had strengthened wheel arches and tyres with reinforced sidewalls. The look of the car was based on the Swedish 1960s Scania Vabis VWs.
On the 27th of May 2007, 134 vintage and classic cars set out from the Great Wall of China for the start of the 100th anniversary of the first ever transcontinental motor marathon. 35 days later 105 of the cars crossed the finish line in Paris.
Father and son team John and Matthew Keeler drove across China, Mongolia and the Gobi desert, crossing the vast plains of the Asian steppes into Siberia and Russia, visiting Moscow and St Petersburg before racing through Estonia, Latvia, Lithuania, Poland, Germany and France to finally arrive at the finish in Paris with 6 minutes to spare!
One of the toughest sections of the race came about on Day 4 of the rally in Mongolia. By the end of that day there were over 30 cars missing in the Gobi desert. On the 10th day they had an electrical fire and their first puncture. They were forced to run for four days with no electrics. When the rally left Mongolia on Day 12 the total of cars not running was up to 48. Grolle was rewired in Novosibirsk on Day 14. On Day 15 the starter motor and the engine needed to be rebuilt in Berlin with the poor fuel of Mongolia and Russia taking its toll. After working through the night Grolle was back on the road and able to catch up with the rally. The father and son team had a trouble free run into Paris were they finished with an overall position of 23rd and a class position of 15th… not bad for their first ever event. In 2009 'Grolle' continued its adventures entering the 'Nile Trial' rally.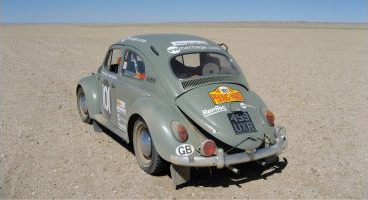 SLOT MACHINE
Some of you may remember us sponsoring Matthew Keeler's 1959 Beetle back in 2007. The car was set to compete in the Peking to Paris classic rally, celebrating 100 years of this event being first held. From a field of 134 vehicles that departed from the Great Wall of China, Matthew and his father John brought the Beetle home a very respectable 23rd (15th in their class).
As a tribute to this achievement, and because it is a great example of an iconic car, Scalextric have produced a faithful replica of it, to be enjoyed by car enthusiasts and slot car fans alike. As you can see from this shot, our old logo's adorn the roof and the rear 1/4 panel – and for those who have studied it closer the old Remtec Europe logo too!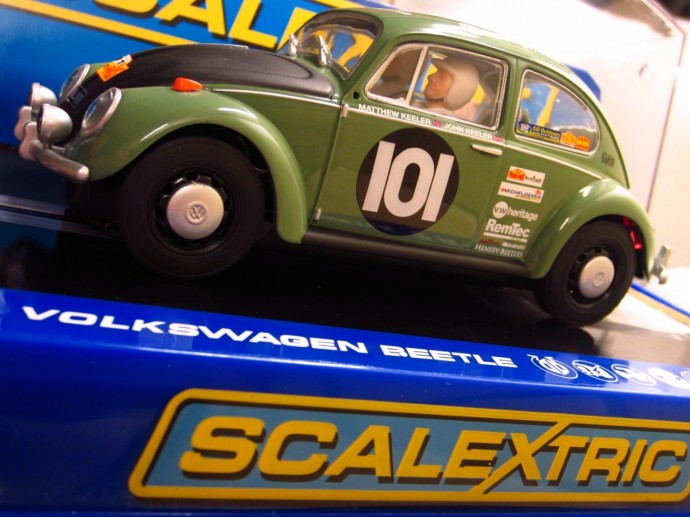 Scalextric model of Matthew Keeler's 2007 Peking to Paris rally car, a great addition to any slot car collection. Below: Matthew and his Dad, John.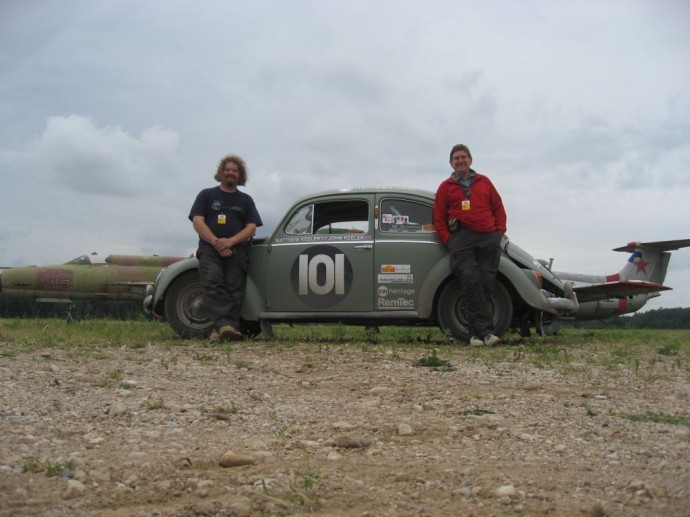 Matthew, who is an artist by trade, discovered the car in a barn in Kent; however it originally hailed from Sweden. The strip down and rebuild was tackled by Henley Beetle's to ready it for the rally ahead. Modifications included a Roll Cage, under body skid plate, strenghtening to the front axle coupled with heavy duty shock absorbers. The tyres were also upgraded for those more suited to desert and off road conditions. As it happens, Matthew's car was designed to be a homage to the Beetle's that competed in the 1964 Spa-Sofia-Liege rally, as can be seen here. So it is quite fitting that Scalextric have chosen to pay tribute to his car by releasing their model. A tribute to a tribute.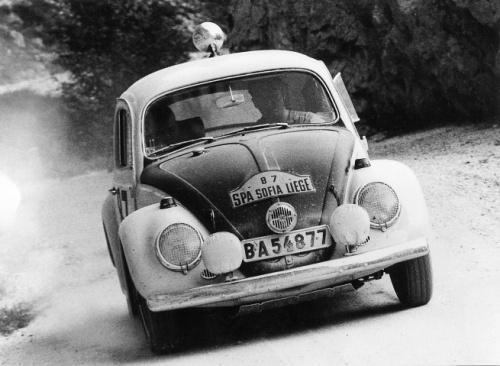 After 35 days of travelling across China, Mongolia and the Gobi desert, Siberia and Russia, Estonia, Latvia, Lithuania, Poland, Germany and France they finally arrived at the finish in Paris with 6 minutes to spare; as 1 of 105 vehicles to complete to challenge.